Whether you're a travel nurse newbie or a seasoned pro, finding the perfect agency to work with matters. Nurses have many things to consider, from bonuses to housing, when choosing the perfect travel nurse agency for their career.
Choosing a company with a good reputation and extensive job opportunities in reputable healthcare facilities is essential. Check out this article to learn how to choose the perfect travel nurse agency for your career growth.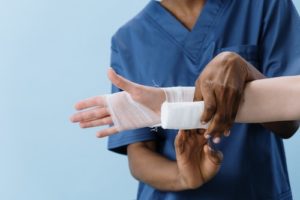 Experience
The best travel nurse agency will have a good track record. Ask for references and speak to other travel nurses who work with the agency, as they can give you unfiltered information about their experiences. If a travel nurse agency has a reputation for being difficult to get in contact with, this is a major red flag.
Choose an agency that takes the time to understand your unique needs and goals. They should communicate openly, clearly explain their policies, and be transparent about housing stipends and other important details.
Look for an agency that provides clients with exclusive hospital connections and various job types. You should also be able to find assignments that match your preferred specialty. Many travel nursing companies will invest in their nurses' professional development and provide them with tuition reimbursement for continuing education courses. This will help you build a well-rounded resume and gain experience to enhance your career. Starting in the travel nursing industry can be a big benefit. The more experience you have, the better your pay rate will be.
Reputation
Word-of-mouth is a powerful tool for determining which travel nurse agency best suits your needs. Read through traditional Google and Facebook reviews and online review sites like Glassdoor to see what other travel nurses say about the company you're considering.
Look for an agency that offers a variety of specialty assignments, competitive pay rates, and perks and discounts. The best agencies also have on-staff specialists for housing, documentation, and clinical issues that can arise during your assignment.
The ideal agency will also be transparent about contract rates and clearly outline your benefits (including weekly rate, call pay, mileage reimbursement, travel stipend, housing stipend, and other compensation). If an agency needs more current jobs posted or their listings include only apples-to-apples comparisons, that may be a sign they aren't interested in helping you grow as a travel nurse.
Pay
It's important to find an agency that offers competitive wages. Look for agencies that pay their nurses well, and consider the value of other perks like free housing or travel expenses, license reimbursements, continuing education reimbursements, and career growth courses.
A reputable agency will communicate clearly about pay rates, fees, and stipends. Some agencies will package taxable and nontaxable funds differently, so clarify these values before accepting an assignment.
It's also a good idea to ask fellow nurses for recommendations on travel nurse agencies. They'll be able to tell you which companies are worth working with and which ones to avoid. Ideally, you want to choose an agency that is well-known and respected within the industry with a track record of providing a great experience for its current nursing workforce. You'll enjoy your assignments more if you're confident that the agency is looking out for you. This is a big reason why most travel nurses stick with their preferred agency for the long haul! The agency should also offer flexible contracts to accommodate your schedule.
Housing
If finding housing is a big part of what worries you about travel nursing, look for an agency with an internal housing department. The best agencies have staff members whose one job is to help travelers find housing that fits their needs and budgets.
They often have a network of rental options, including short-term leases with landlords willing to rent out their properties to travel nurses in the past. They can also provide furniture packages and utilities if needed.
This option is better because it removes the stress of finding your own housing. It's also less risky because the agency handles the transaction, so if you end up with an assignment that needs to be fixed, you can cancel your agreement. It's also safer because it prevents you from falling victim to fraudsters on sites, who may advertise gorgeous apartments with quartz counters for a fraction of the usual price. They're targeting travel nurses who are pressed for time and money. It's a common trap that's easy to fall into when looking for accommodation in a new city in a hurry.
Support
Nurses considering travel assignments often have a lot of unique needs. A good recruiter can discuss your needs and answer any questions about exclusive contracts, housing stipends, pay packages, and licensing reimbursements. They should also be able to help you evaluate the hospital culture at a potential assignment, including Magnet status and whether or not there are any nursing leadership issues to consider.
The best travel nurse agencies will provide various benefits to nurses, including life insurance, medical insurance, free housing while on an assignment, career growth courses, 401k options, and 24/7 access to a support team. These benefits can help you feel more prepared and comfortable on an assignment.